Plaster ceiling rosettes have always been used to decorate and embellish ceilings. They are in fact a classic decorative element whose origin is difficult to date with precision.
They are such a widespread type of decoration that it is possible to find them in homes and buildings of all ages. In fact, it can be safely said that decorative ceiling medallions have gone through countless different historical periods.
And over time the style and use have never changed that much. However today we are here to talk about 3 ideas on how to use plaster rosettes in a more creative and modern way.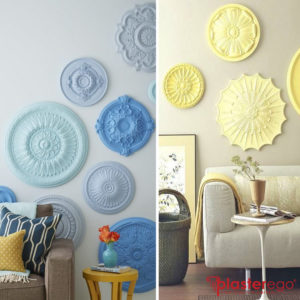 Painted plaster medallions
Here is the first idea: painted plaster rosettes, hung on the wall like paintings or photos. It is an extremely original and creative way to use decorated plaster rosettes.
Just pick up a series of plaster medallions of different styles and sizes, paint them in different shades of the same color and then hang them on the wall. As you can see from the example photo, the result is gorgeous.
The important thing is to choose the color that best suits the interior. And on top of other things, it is also a very simple project to carry out. Ideal for all DIY enthusiasts.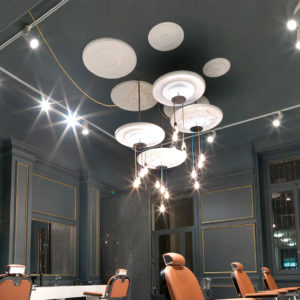 Chandelier made with plaster rosettes
Here is another idea that distorts the classic use of plaster roses: a chandelier made up of plaster medallions!
The ceiling rosette, which has always been relegated to a simple element used to mask the electric cable, becomes the protagonist here. From an accessory element it becomes the central and constituent element of the actual chandelier.
Definitely a creation of great impact! Perfect for those who appreciate modern interiors and artistic avant-garde solutions.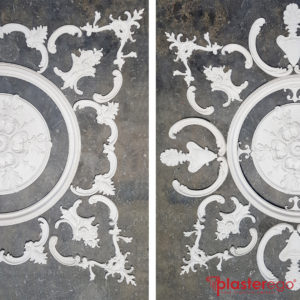 Ceiling composition
This is the modern evolution of the classic ceiling plaster medallion. Along with the central rosette, a number of additional plaster decorations are installed: curls, ornaments and other small plaster stuccoes.
This allows you to "expand" the size of the ceiling rose to decorate a much larger surface of the ceiling. In this way the rose window and the surrounding composition become the real focal point of the room. Impossible not to admire!
The ceiling rosette made with composition is perfect in neo-classical and contemporary classic style environments. In fact, in these finely decorated and finished interiors, a simple plaster rosette would have little visual impact.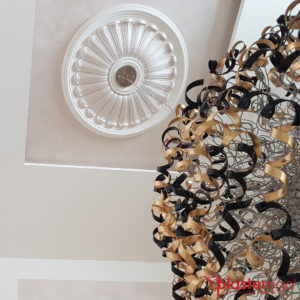 What do you think of these 3 creative ideas for using plaster rosettes?
If you want to recreate them, browse our collection of decorated plaster medallions now: you will find more than 200 different models to choose from !!!