For some time now, you have been looking at that wall of the house that you find too bare and empty. You can't stop thinking that you have to do something to decorate it properly, but you don't know how. If you find yourself in this situation, we are here to give you the solution: plaster wall panels!
Decorative coatings and 3D surfaces are in fact perfect for embellishing and decorating walls. They allow to obtain very scenographic effects and transform an anonymous wall into the absolute protagonist.
If you're starting to think this might be the solution for you, keep reading this article to find out all about 3D plaster wall panels.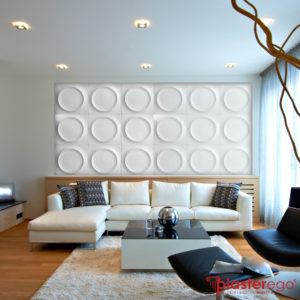 Decorative plaster coatings for walls
Decorative plaster wall panels are a solution that is becoming increasingly popular to liven up and beautify rooms and interior walls.
They are used a lot especially by interior designers and architects. In fact, they represent a clever idea for transforming and decorating an anonymous wall. Whether it is a public or commercial environment or a private home, plaster coverings give a burst of style and character.
Cladding surfaces are quick and easy to install because they are supplied in ready-to-glue or screw-on panels. These are lightweight and strong gypsum panels that once installed can be painted to suit any style or preference.
Finally, gypsum is an ecological and healthy material unlike plastic materials and resins. It has always been used to create incredible decorations, plaster mouldings and decorative stucco.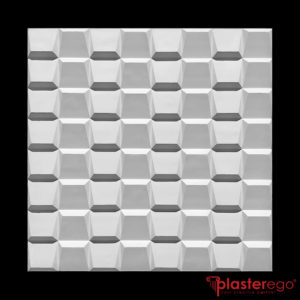 How to decorate a blank wall
If you are looking for ideas on how to decorate walls of the house or how to enhance an empty wall, listen to this advice: a decorative wall panels applied to the surface creates an extremely scenographic and modern effect.
In addition, a 3d plaster surface leads to a much more refined and "orderly" result compared to hanging a myriad of paintings and ornaments to fill an empty wall.
A carefully chosen three-dimensional texture, furnishes and gives a burst of style in one go! For example, look at our plaster design surfaces: there are both contemporary and minimal solutions as well as ornate and rich in details.
You just have to find the one that fits your style!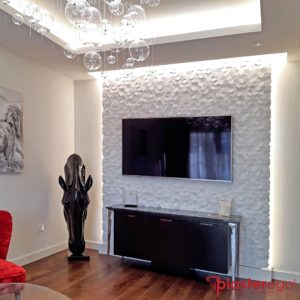 Office, living room or bedroom?
A question we are often asked is: "what are the suitable interiors for plaster wall panels?"
The answer is that decorative plaster surfaces can be used in any interior. They can decorate the living room wall, enhance a bare kitchen wall or embellish the entrance to an office or shop. They can even decorate an entire ceiling!
The important thing is to choose plaster wall panels with a design suited to the style of your interior. Little matters whether we are talking about commercial spaces, public interiors or private homes.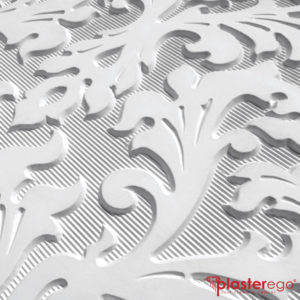 What are you waiting for!?!
Run to browse our collection of plaster panels and coverings and find the perfect texture for your wall.