The trend is now clear: the Boiserie is back in vogue in the Interior Design world!
And this success is absolutely deserved. In fact, the Boiserie and plaster mouldings allow you to create unique and tailor-made interiors. Continue reading this article to understand what are the advantages that push more and more people to use this type of decoration to furnish their home.

What is a Boiserie?
The Boiserie, in its most modern and current meaning, is a decoration for walls that consists in the creation of squares and panelling for aesthetic and decorative purposes. As the times of extreme minimalism are coming to an end, today the search for interior customization has led to the rediscovery of this decorative element.
And in the end, the Boiserie made with plaster frames allow you to just do that: decorate walls and interiors in a personalized way. Boiserie are the perfect product to differentiate interiors and give that style and character that many are looking for. It is versatile, because it adapts to both the modern style and the most classic interiors, and can be made without spending a fortune.

Why choose plaster Boiserie
Although available in many materials,  here at Plasterego, we are convinced that gypsum is the optimal choice. The advantages compared to other materials are many: ease of use, absolute customization and low costs!
Boiserie realized with plaster mouldings can be made directly on the wall, both by professionals and DIY enthusiasts. They are created and supplied in standard elements that can be adapted to measure directly during installation.

Modern or classic: pick your style
This type of decoration is suitable for both modern and classic contexts, there are no limits in this regard. It is simply a matter of choosing with taste and according to needs.
Do you want to create modern boiserie for your home? Choose thin mouldings with soft lines, without too many decorations. Do you need to create them in a classic style for a more refined and formal interiors? Choose more squared and defined geometries.
Among the most popular mouldings for boiserie are our models 02267B and 02216B. These plaster mouldings, with the right "accessories" (we are talking about Angles and Mezzarie, keep reading and we will also see this point), adapt to almost any context. In fact, they make it possible to create both modern plaster panels and more classic solutions.

Elements that make up the plaster paneling
Having ascertained that the plaster Boiserie are suitable for every style, let's now see what elements they are made of.
1 Plaster mouldings: they are the fundamental and essential element. If desired, the wall panels can also be made only with plaster mouldings. To find out how to get a professional result, read our guide on plaster mouldings in 4 steps
2 Plaster Angles: they are placed in the corners of the Boiserie to give "movement" and additional character.
3 Mezzerie in plaster: it is the decoration placed in the center of the sides of the panels, hence the name. It is a further decorative element to be used to give greater emphasis to the Boiserie or to give importance to the main square of the room.
4 Martingala (or Marca-piano) moulding: it is the moulding placed around the entire perimeter of a room, about 1 meter high from the floor and separates the low from the high Boiserie.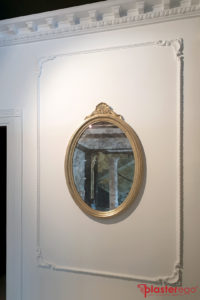 If you are interested in Boiserie and would like to have further creative ideas for your project, visit the section dedicated to plaster mouldings for Boiserie on our website.
You will surely find the right idea and the right product!